"I see Phil teaching chess with explicit direct instruction and feedback – evidence based, best practice - all the things we know as teachers that make learning happen. I think he is one of the best teachers I've seen outside a classroom using teaching techniques naturally.
The children learn and retain in a fun environment systematically building confidence, calming the over confident with simple to quite complex concepts. It really adds to the child's growth and learning and complements the whole teaching program."
Iain Wallace
Kardinia international College
"Phil challenges and supports the children to be creative and critical thinkers. The children love to attend Phil's chess coaching classes as he actively fosters the children's sense of wellbeing and motivation to learn more".
Rob Horwood
Principal, Stella Maris Catholic Primary
Alex loves chess club and gets very upset if he misses a session. His chess has definitely improved and his teacher Anitia feels that it helps with his math in class in terms of concepts and thinking Keep up the great work!
Katrina Lambert
Parent, Hampton Primary School
"Thank you for introducing our son to the game...it really plays a big part in his life."
Emily Husband
Parent, St Finbar's Primary Brighton East
"For a number of years, Phil has provided an excellent Chess program for students from Year 1 to Year 4. He has developed student's critical, creative and strategic thinking through weekly sessions that explicitly teach the craft of chess play.
Phil has developed an excellent rapport with our students and they respond well to his knowledge and calm and considered instructions. A good balance between instruction and play, Phil engages the students and makes learning meaningful and fun.
Phil has clear expectations within his classes and focuses on fair play and skill. Our students benefit from these sessions with Phil by thinking creatively and strategically, as well as developing social skills such as taking turns and co-operation"
Kieran McCrohan
Head of Junior School - Wesley College
"His chess skills have improved significantly. I think it's probably strengthening his logical thinking abilities. It's well run and entertaining. He says he enjoys it. Sometimes he talks about the strategies he used in the games"
Brett Anquetil
Parent, Hampton Primary School
"My daughter would very much like to continue with chess this year. She may have told you that she and I only moved to Geelong one year ago. There have been various 'bumps' in the natural course of settling into school and a home and neighbourhood and chess has been a great source of joy for her.
It's also given her a great avenue to use her strong mind. She's introduced me to Magic Chess and also Snowball Chess. These two have been more helpful to me than her actually in dusting off my chess mind..."
Parent, Ashby Primary School
BENEFITS FOR YOUR SCHOOL?
Add value to your school with diversity of programs offered (parent referrals).
Increased student academic performance
School excellence through participation in inter-school tournaments
A new social platform where any child can excel.
BENEFITS FOR STUDENTS?
Educational: Improved IQ, critical thinking, concentration, analytics, memory.
Social: Develop new friendships, social interaction skills, sportsmanship.
Emotional: Improved self esteem, resilience through winning/losing games.
BENEFITS FOR PARENTS?
Seeing their child's character develop through the many benefits of chess.
In a digital world chess is fantastic one on one quality time for Parent/Child.
The gift of giving their child a unique new skill they have for life.
Lunchtime • After School • In-Hours
Since 2005, we have been providing our popular Chess For Kids program in schools throughout Greater Melbourne.
Our classes run for 50 minutes to an hour during lunch time or after school and are fun, educational and very cost effective.
If you would like to see for yourself how popular our classes could be for your students, please call us on 0423 144 682 to arrange a demo.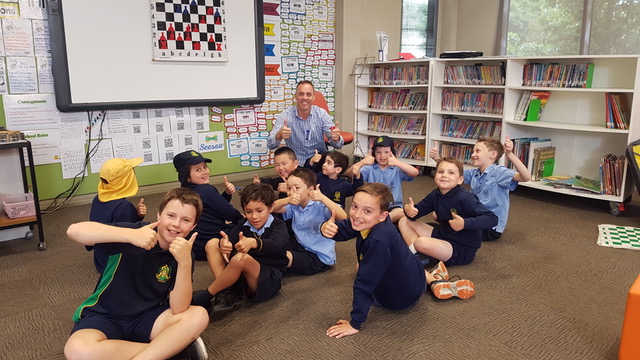 CLASS STRUCTURE
10-15min lessons are taught each week from a structured syllabus ranging from tactics, strategies, master openings, traps & special moves. After the lesson children are paired up in a fun tournament playoff. Prizes are awarded to top 3 players at end of term.
DURATION
50 minutes - 1 hour TIMES
Lunchtime, After School or In-class (curricula based).
If your school would like benefit from our fantastic chess program, feel free to call us to organise a free chess clinic to get things  up and running.
Call us TODAY: Ph: 0423 144 682